Ultrasound Cavitation – Fat Removal
Ultrasound Cavitation is the most advanced way to break down fat cells, remove cellulite and tighten and tone your skin!
Using Ultrasound Cavitation and Radio Frequency  allows your body to break down fat cells easily. These cells are then metabolized through your body's natural removal processes. Unlike traditional liposuction, Cavitation Liposuction uses no injections, anesthesia, and there is no down time making it the perfect treatment for removal of fat and cellulite.
Ultrasound Cavitation - Fat Melting
Whether you are looking to lose inches from your waist or reduce the size of your hips and thighs, our Ultasound Cavitation treatments could help you improve your body shape. Our Ultrasound Cavitation treatment is a completely non-invasive treatment for the reduction of body fat. A course of Ultrasound Cavitation could help clients to reduce inches and reshape their bodies. The treatment is pain free, non-surgical and there is no recovery time. Ultrasound Cavitation is able to break down and shrink fat cells in the area you are looking to improve. The treatment is safe and effective without harming any other cells in the body. The contents of the fat cells are safely eliminated through your lymphatic system or used as energy. Ultrasound cavitation is effective at treating larger areas of fat, rather than pockets of fat that would be treated with Fat Freezing. This is particularly popular with our male clients who struggle to lose stomach fat.
Thighs
Hips
Love Handles/Flanks
Inner and Outer Thighs
Upper Arms/Bingo Wings
Bra and Backs Rolls
Buttocks
Chin
Frequently asked questions about

Cavitation
How does Cavitation work?
Cavitation uses an ultrasound wave to rupture the cell membrane of the fat cell without harming any other cell in your body.  The ultrasound wave creates a vibration within the fat layer quickly breaking it down into liquid which the body eliminates as waste.*
What happens during Cavitation?
Before any treatment you will have a consultation with your therapist to discuss any aesthetic goals or ask any questions you may have. After a treatment plan is agreed, we will begin to target the selected areas.  Your therapist will place the ultrasound cavitation device on the nominated area safely eliminating the unwanted fat cells.* A treatment plan is typically 6-8 sessions at weekly intervals.
How long will it take?
The treatment will take less than 40 minutes based on the size of the area. The course is 6-8 sessions at weekly intervals.
Are there any side effects?
Possible bruising or slight numbness. Recovery is immediate. No downtime. No anesthetic required. Non invasive. Can return to daily routine immediately.
What is the aftercare?
Keep treated skin away from any excess heat and no hair removal for 48 hours.  Avoid using 'active' products for 2-3 days before and after the treatment.  Drink 1.5 -2 litres of water per day. For your own comfort don't consume a large meal immediately before your procedure, or directly afterwards. We recommend avoiding alcohol and caffeine on the day of your treatment.
Before After photos - Cavitation
Gallery of Cavitation treatment
Shape Zone: let us help you discover the best version of yourself
With over 25 years of experience in medical aesthetic treatments, our friendly and qualified practitioners will ensure you have a comfortable and effective Sculpt Pro Muscle Stimulation experience. We use the state-of-the-art Tesla machine for this treatment, and our specialists have undertaken extensive training to operate the device. With Shape Zone, you're in safe hands.
 If you've not had a HIEMT Muscle Stimulating  treatment before, we offer a free, no-obligation consultation. One of our experts will answer any questions you have about the procedure and put together a customised treatment plan that focuses on the muscle groups you want to target.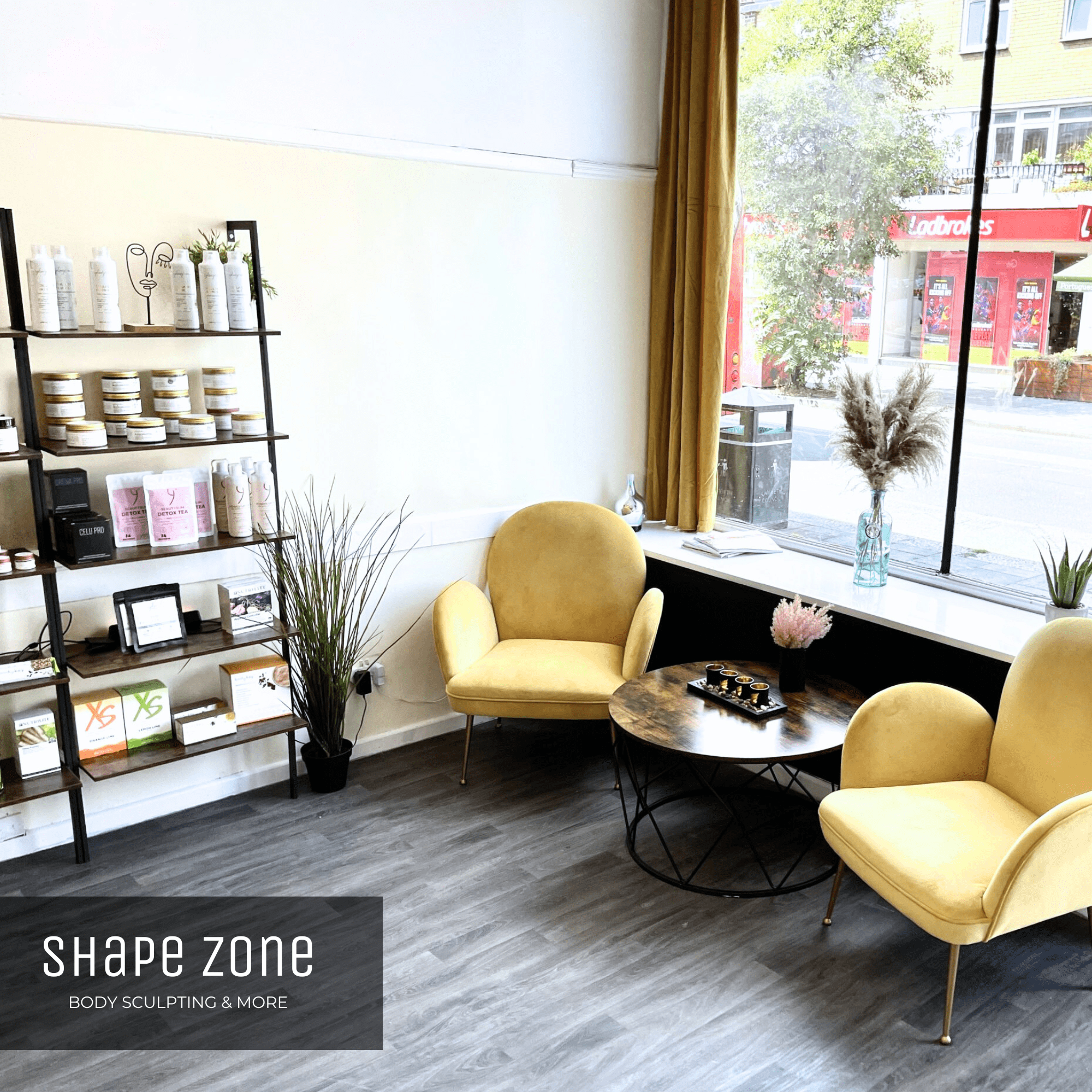 Table of Contents Cavitation in London