Body Radio Frequency – Skin Tightening
Body Radio Frequency technology is a fantastic treatment for both skin tightening and cellulite reduction. The Body Radio Frequency energy selectively increases the temperature of the fat cells, by doing so simultaneously in deep and superficial layers of fat. This increases the metabolism and release of liquid fat from fat cells. Normal cells can support 60 degrees but fat cells start to be melted at 41 degrees. After the treatment and release of liquid fat, the fat cells shrink in size, and skin is restored closer to its original form, reducing or eliminating the appearance of cellulite.
Body Radio Frequency - Skin Tightening & Fat Melting
Radio frequency is one of the safest, least invasive and yet most effective anti-ageing treatment available to people of all skin colours. In our early 20's we have plenty of collagen in our skin. However, with age our collagen production decreases, so that by the time we reach our mid 40's it is barely in production and due to the lack of collagen we notice our skin loses elasticity, sags and forms lines and wrinkles. Using the very latest Radio Frequency equipment here at Shape Zone, we can stimulate your own natural collagen and tighten your elastin fibres to bring about long-lasting rejuvenation.
Tummy
Hips
Arms
Knees
Buttocks
Thighs
chest
Frequently asked questions about

Radio Frequency
How does the Radio Frequency treatment work?
The radio frequency energy is directed onto the skin through optical gel which is applied before treatment. The radio frequency energy works by heating the dermal (ie lower) layers of your skin without having to pass directly through the epidermis (the surface skin) so that skin is maximally protected. The heat energy being delivered to the lower layers is absorbed by the many water molecules present in this area. The water molecules then begin to vibrate from the energy delivered causing additional frictional heat.
The neurotransmitters to the brain interpret this delivery of heat to the lower layers of the skin as being a perceived threat/potential injury and the body responds to this by stimulating collagen with the further benefit of tightening elastin fibres. This is the body's natural reparative response and how it would deal with wound healing. The result is tighter, firmer, younger looking skin. There is also a freshness and youthfulness that results from the treatment due to the excitation of the water molecules which produces high levels of oxygenation (water being made up of part hydrogen and part oxygen). Oxygen stimulation below the skin surface promotes general skin health (assisting with acne and other scarring) in addition to the lifting and tightening that the technology is most well known for.
Who can have treatment?
Radio frequency is a safe non-invasive treatment and can be used on all skin types. It is very popular with clients – male and female, over the age of 35, as it is excellent at restoring elasticity, smoothing out lines and wrinkles and bringing about a more youthful looking complexion. As mentioned it is also used to help with acne scarring. So clients range in age from people in their 20's to those in their 80's! Men and women, and all skin colours.
What results can I expect and when?
Obviously results will vary depending on skin laxity and condition, which is usually dependent on age and lifetyle. Advice wil be given at your consultation as to what sort of results you can expect and some before and after examples will be shown to you, using the equipment that you will be treated with.
Many clients see a noticeable result even after one treatment and there is a cumulative effect as time passes. Results are often noticed by family and friends after a few treatments. The results are, and look, completely natural; and the treatments provide genuine long lasting effects at a cellular level – not just superficial muscle tightening. Skin looks smoother, fresher, firmer, and more lifted. Skin condition improves and a general healthy more vibrant appearance results – bringing llife back to sallow and dull complexions as well as eradicating lines and wrinkles. We recommend before and after photos are taken throughout your course, so that you can see the improvements.
What areas can be treated most effectively with Radio Frequency?
Best results are usually seen on the face, neck and decolletage. It is good for loose jaw lines, nasal labial folds (those lines from nose to mouth), lines and wrinkles around the eyes and on the forehead, under eye bags and circles, and generally skin that has aged chronologically and through exposure to damaging environmental elements such as the sun, smoking, wind in the winter months, alcohol and poor hydration over the years.
How does the treatment feel?
The treatment feels pleasantly warm and comfortable. It is a heat based treatment with the heat being delivered from the inside out, using safe and comfortable technology and administered by a specifically trained therapist. The therapist will work on each area of your face (and neck/decolletage if required) one by one – to raise temperature up to the optimum level for collagen stimulation and results. An infra red temperature aid will enable this to be monitored. You can relax and enjoy it!
How many treatments will I need?
We usually recommend a course of 8 – 10 treatments but this does depend on age and skin condition/laxity. Thereafter occasional maintenance treatments are advised. Your therapist will provide a free consultation and suggest how many treatments are recommended in your circumstances. Sometimes clients elect to have one off treatments for a special event. But for long lasting results (up to 2 years depending on age and lifestyle) a course will be needed. For older clients (60 years and above), for maximum results a second course could be required after the first.
There is no limit to the amount of treatments you can have, and the treatments come with a warning… you may get addicted to the new you and the compliments that are often received!
How long do I have to wait in between treatments?
Treatments can be taken as regularly as twice a week, but most people have treatments every week or every two weeks whilst they are on their course. If your budget doesn't allow for this you can take treatments monthly. The results will just take a little longer to come through. After the initial course you can take a break and then either book in for another course 3 months later (for older clients or clients with more compromised skin) or you can have occasional maintenance treatments. Don't forget that as time goes by you are continuing to age and are regularly exposed to environmental hazards which will take their toll and perpetuate the ageing process. These treatments are combating that, but will not last for ever as you are always ageing, so arrange a review session with your therapist once you have completed a course.
What do I need to do in between treatments?
Before treatments you must drink plenty of water so that you get the most out of your treatments. The more water molecules in the skin the easier it is for the skin to heat up and prompt the reparative response of collagen stimulation and oxygen production. Otherwise just turn up with or without make up. Your therapist can remove make up and you will be able to reapply after treatment.
What will happen after the treatment?
After the treatment there will be a more flushed look to the skin. For those with a sallow skin tone this will usually generate a very healthy appearance. For those with initial red skin tones there may be a higher than usual skin colour but this will generally subside quickly (within an hour or two usually). The skin will feel warm but this will cool after a relatively short period. You will feel a tautness and probably notice an improvement in texture and a more lifted look to the skin. Make up can be applied immediately and you can carry on with your day as usual, confident that you are on the path to a naturally younger looking you! Any other questions of course can be answered in a free consultation.
Absolute Contraindications
Pregnant
Breastfeeding
HIV/AIDS
Cancer (all forms)
Undergoing chemotherapy or immune therapy
Immunodeficiency
Lupus
High blood pressure (uncontrolled)
Diabetes (uncontrolled)
Keloid scarring
Excessive pigmentation
Vein inflammation
Prednisone and other steroid medications (treatment will increase inflammation)
Chemical peels and laser resurfacing
Sunburn
Partial Contraindications
Recent surgery (wait 6 months)
Recent scars (wait 6 months)
Open lesions (avoid area)
Skin diseases (avoid area)
Infection (avoid area)
Antibiotics (wait until course completed)
Inflammation (avoid area)
Varicose veins (avoid area)
Prosthesis/silicone implants (avoid area)
Metal implants/screws (avoid area)
Metal contraceptive coil (avoid area)
Depilatory creams (wait 2 weeks)
Areas being treated with IPL or Laser (wait 2 weeks)
Areas being treated with Botox® (wait 3 months) or dermal fillers (wait 2 weeks)
Suntan (sun must be avoided the entire duration of the treatment regime)
Chronic inflammation (depending on severity of chronic inflammatory conditions - consider that treatment will increase inflammation and anti-inflammatory medications reduce the effectiveness of the treatment - please discuss with your doctor first)
If you have any PARTIAL CONTRAINDICATIONS you may or may not be suitable for treatment. Your beauty therapist will advise the best course of action in a consultation.
Before After photos - Radio Frequency
Gallery of Radio Frequency treatment
Shape Zone: let us help you discover the best version of yourself
With over 25 years of experience in medical aesthetic treatments, our friendly and qualified practitioners will ensure you have a comfortable and effective Sculpt Pro Muscle Stimulation experience. We use the state-of-the-art Tesla machine for this treatment, and our specialists have undertaken extensive training to operate the device. With Shape Zone, you're in safe hands.
 If you've not had a HIEMT Muscle Stimulating  treatment before, we offer a free, no-obligation consultation. One of our experts will answer any questions you have about the procedure and put together a customised treatment plan that focuses on the muscle groups you want to target.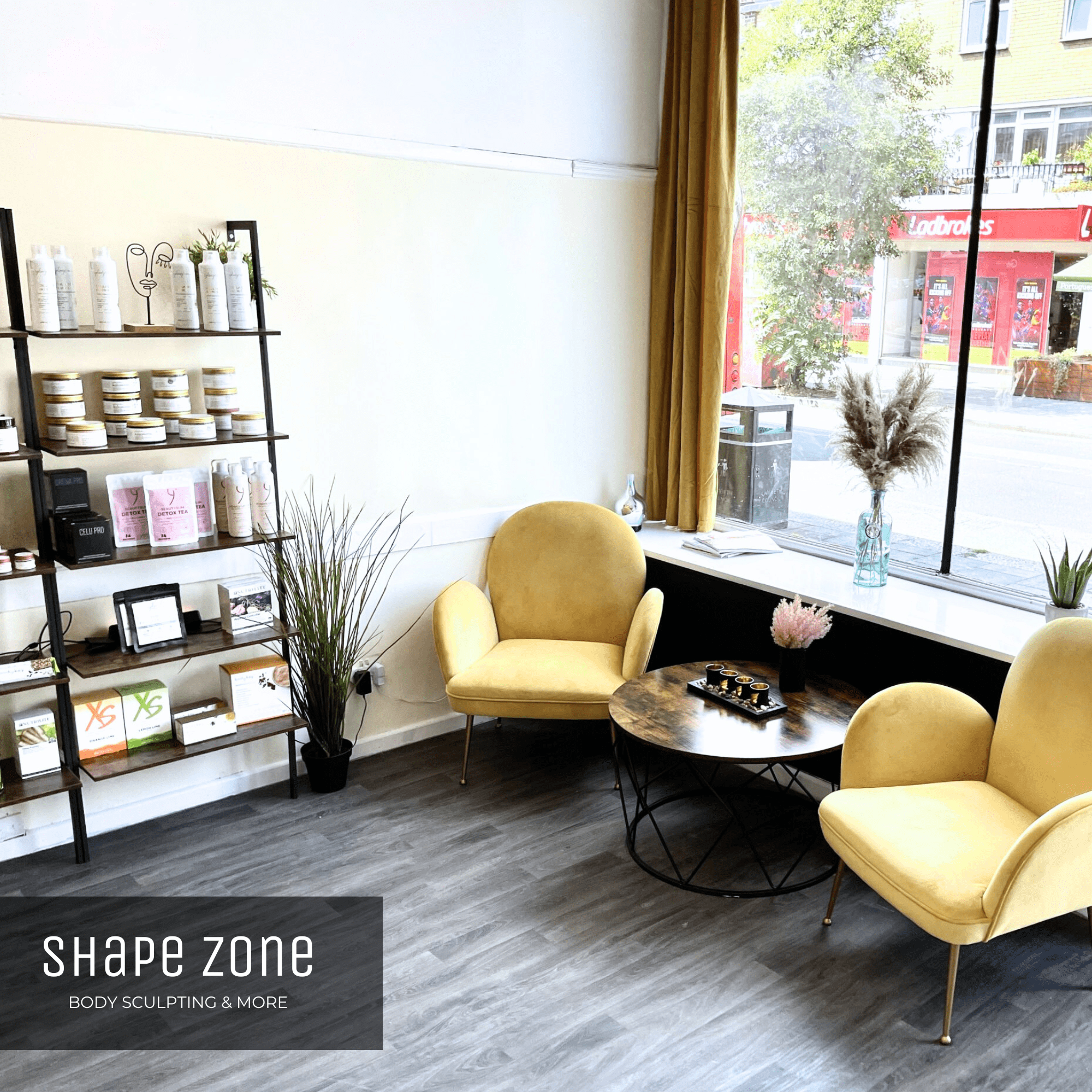 Table of Contents Radio Frequency in London