Cellulite Roller therapy with Micro-vibration
Cellulite Roller therapy with Micro-vibration
Clinically proven technology to reduce and remove the appearance of cellulite while toning and lifting the treated areas.

Cutting-edge cellulite reduction treatment.
REDUCE STAGNATING LIQUIDS AND ELIMINATE TOXIC SUBSTANCES
CELLULITE AND BODY CONTOURING
REDUCED CIRCUMFERENCE OF WAIST AND THIGHS
IMPROVED LYMPHATIC DRAINING AND PUFFINESS
IMPROVED CONTOURS OF THE SILHOUETTE
Cellulite reduction Prices
Cellulite Roller therapy with Micro-vibration & Micro-compression
Cellulite Roller Therapy treatment can offer incredible results. Combining both micro-vibration and micro-compression technology, the treatment cleverly triggers fat cells to break down. The treatment uses multiple rotating spheres, causing a pulsating effect that helps to contour the treated areas of your body.
Cellulite Roller Therapy can also enhance the body's function of the lymphatic system, helping to naturally detoxify the body. Thanks to the encouraged production of collagen, your skin will be left feeling revived and thoroughly nourished too. Results from this treatment can be visible from just one treatment, but we recommend a course of twelve Cellulite Roller Therapy treatments for the most optimal results for you.
Cellulite Roller Therapy works with precision on cellulite and reduces the infamous 'orange peel effect' by improving circulation and smoothing the tissues of the problem areas.
Our Compressive Micro-vibration method works gently on the tissue to tone and firm providing remarkable results and a more youthful complexion.
NO MORE HEAVINESS IN THE LEGS
The result of inefficient blood and lymphatic circulation in the lower limbs. Compressive Micro-vibration reactivates the circulation and stimulates the lymphatic system, eliminating the heavy leg problem in a fast and effective way.
Cellulite Roller therapy with Micro-vibration & Micro-compression
THE INNOVATIVE COMPRESSIVE MICRO VIBRATION METHOD TARGETS THE KEY AREAS OF YOUR BODY THAT CAUSE YOU TO COVER UP. IT'S AN EFFECTIVE TREATMENT FOR THE WHOLE BODY, TACKLE EVERYTHING FROM CELLULITE TO SCULPTING.
Our non-surgical cellulite Therapy technique reshapes and sculpts areas of the body where fatty deposits can build up and be tricky to remove.
This build-up can occur on the arms, back, waist, abdomen, thighs and buttocks. But fortunately, our treatment can adapt to fight fatty deposits in any of these areas. Leaving your body smooth, shapely and sculpted from top to bottom.
Cellulite Roller Therapy is a technology that uses an innovative mechanism of compressive micro-vibrations by a roller composed of 55 spheres of hypoallergenic silicone. It will generate mechanical vibrations at a low frequency directly onto the main causes of cellulite.
Frequently asked questions about Cellulite Roller therapy
Step by step Cellulite Roll Therapy
No obligation consultation
Firstly, you will have a complimentary consultation with one of our highly experienced Treatment specialist. They will take your full medical history, answer all your questions about the treatment, ensure you are fully informed of the process and assess whether you would be a suitable candidate.
During your initial meeting with your Therapist, they will assess the areas you wish to treat, discuss how they will be performing the treatment and again, give you answers to any questions you may have regarding the treatment.
Your Therapist will run a handheld device over the areas you wish to treat, stimulating the lymphatic flow and toning the body. Most clients describe the experience as a deep tissue vigorous massage. 
Cellulite Roll therapy non-invasive treatment that involves no downtime and you are ready to resume your normal daily activities once you leave the clinic. Our highly experienced therapists will apply our professional Cellulite Cream immediately after the treatment. They will also advise you to drink a lot of water to assist your lymphatic system to naturally release any trapped toxins from your body to further optimise your results.
Can I have Cellulite Roller treatment during summer?
There are no contraindications regarding the season, it can be carried out at any season of the year.
Can Cellulite roller help?
Cellulite Roller therapy is harnessing the most cutting-edge technology to reduce even the most challenging types of cellulite, smoothing out the unsightly skin dimples and helping to significantly tone your body.
Can I have Cellulite roller therapy to treat water retention in my ankles?
Yes, Cellulite roller therapy is an advanced treatment that can help to treat every part of the body. This treatment has been proven to enhance the flow of the lymphatic system in order to tackle water retention, even in challenging areas such as the ankles.
Which areas can be treated?
Some of the most common areas that can be treated are your legs, glutes (buttocks), arms, bra sag and your abdomen. This advanced body toning treatment will also help to tackle any stubborn cellulite on your back, neck and arms. We recommend that you speak to our highly experienced Therapists today to discuss in detail.
What types of concerns can Cellulite Roller therapy address?
Cellulite Roller therapy is an effective form of treatment that will combat any type of cellulite present on your body. Cellulite comes in three different types – Aqueous Cellulite, Adipose Cellulite and Fibrous Cellulite – Cellulite Roller therapy can be used to tackle all three forms. Cellulite will manifest itself in four different stages, regardless of the type. Stages are measured as:
Grade 0 – No dimpling
Grade 1 – Dimpling when pinched
Grade 2 – Visible dimpling when standing
Grade 3 – Visible dimpling when standing and lying
Whatever the grade or stage your cellulite is at, Cellulite Roller therapy can tackle the uneven, orange-skin appearance that will leave you with much smoother and more refined skin.
What 5 actions does Cellulite therapy treatment include?
Remodeling action
Reshapes the silhouette and smooths out wrinkles
Muscle action
Tones muscles and firms' tissues
Analgesic action
Improves oxygenation and elimitanes pain
Draining action
Eliminates toxins and aids lymphatic drainage
Vascular action
Improves circulation and nourishes tissues
Before After photos Cellulite Roller therapy
Shape Zone: let us help you discover the best version of yourself
With over 25 years of experience in medical aesthetic treatments, our friendly and qualified practitioners will ensure you have a comfortable and effective Sculpt Pro Muscle Stimulation experience. We use the state-of-the-art Tesla machine for this treatment, and our specialists have undertaken extensive training to operate the device. With Shape Zone, you're in safe hands.
 If you've not had a HIEMT Muscle Stimulating  treatment before, we offer a free, no-obligation consultation. One of our experts will answer any questions you have about the procedure and put together a customised treatment plan that focuses on the muscle groups you want to target.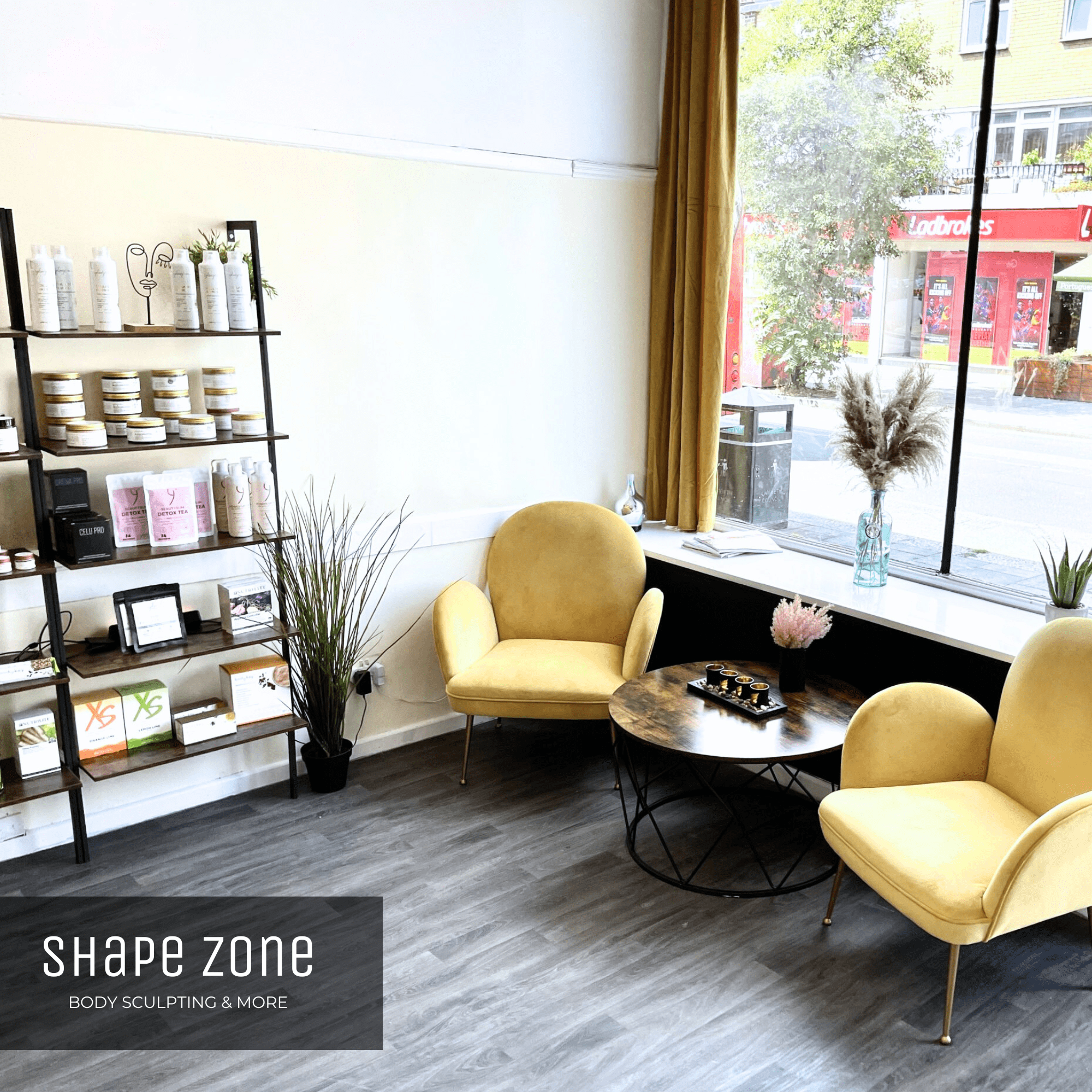 Table of Contents 360 Cryolipolysis Fat Freezing in London