360 Cryolipolysis Fat Freezing
Fat Freezing – 360° Cryolipolysis or fat freezing, is a full coverage, non-surgical fat removal treatment with long-term results. The 360° applicator provides 200% more coverage than a typical fat-freezing treatment. This highly effective and painless procedure helps reduce fat deposits that are otherwise non-responsive to exercises and diets.
Cryolipolysis, otherwise known as body contouring or fat freezing is an amazing treatment for permanently removing stubborn fat.
360° Cryolipolysis Prices
FAT REMOVAL WITH 360° CRYOLIPOLYSIS Fat Freezing
Cryolipolysis is a revolutionary technique that allows excess fat to be safely targeted and subjected to low temperatures of around -10°C.
This freezing temperature causes the fat cells to crystallise, making them appear as waste products to the body.
The crystallised fat cells are then eliminated from the body through the lymphatic system and passed out through the kidneys and liver during urination. Following the treatment, treated areas of the body will become slimmer and more toned.
A fat freezing session typically lasts for 30-45 minutes and causes minimal discomfort, allowing you to resume your normal routine immediately after the treatment is completed.
Fat Freezing in London I High Definition 360 Applicator​
360° Cryolipolysis Treatment areas
Stomach
Double chin
Waist
Love handles (hips)
Thighs (inner & outer)
Arms
Bra/ back fat
Underneath the
buttocks (banana roll)
Man boobs
Frequently asked questions about 360 Cryolipolysis Fat Freezing
What is Fat Freezing?
Cryolipolysis is possible thanks to an innovative technique where areas of excess fat are safely subjected to cold temperatures of around -5°C to -10°C. The freezing temperature kills the fat cells during the treatment, and the dead cells are then purged from the body naturally via the lymphatic system. Treated areas of the body become slimmer and more toned. A fat freezing session lasts at least 30 minutes, causes minimal discomfort, and you can resume your normal routine immediately after your treatment.
How effective is fat freezing?
Cryolipolysis is generally highly effective.
The intended outcome of the procedure is to remove stubborn fat deposits from areas of the body which are non-responsive to diets and exercises.
The result is a treated area that is toned and slim.
Research results also show that the rate of success of cryolipolysis is high.
As the adult body only has a limited quantity of fat cells, fat removal through cryolipolysis is permanent.
Maintaining a healthy and balanced lifestyle following the treatment can make the results potentially permanent.
How is Cryolipolysis different from 360° Freeze?
360° Freeze is an upgraded form of cryolipolysis.
Where the ordinary cryolipolysis procedure uses applicators capable of thoroughly freezing fat from two sides, the 360° Freeze applicators can target fat cells from all angles, including difficult-to-reach ones.
The 360° Freeze, essentially, kills more fat cells per session due to improved coverage and temperature control.
How many sessions are required for successful results?
Most people who undergo cryolipolysis are able to benefit from the desired results after 1 to 2 in-clinic sessions.
Nevertheless, certain aspects factor into the number of sessions that may be needed.
These factors include the size of the treatment area and how an individual's body responds to the treatment.
Thus, some individuals may need more in-clinic sessions to receive the best results.
And as such, we are unable to guarantee any specific results.
Each cryolipolysis session must be scheduled at least 3-4 weeks apart.
How much fat is reduced per session?
A single in-clinic fat freezing session can result in the removal of 22% – 45% fat cells, on average, from the area being treated.
Again, how much fat is ultimately removed after a single fat freezing session is subjective and is different for everyone.
And so, the actual percentage may vary from the average stated above.
Are there any side effects?
Common side effects of cryolipolysis include swelling and redness.
Both effects tend to be very mild, and they typically subside within a few days.
Though not very common, some people experience temporary soreness in the treated area.
The feeling has been described as being similar to post-workout soreness.
Are there any Contraindications?
All medication, creams and injections need to be stopped 2 weeks before treatment
Heart conditions
Cancer –Undergoing treatments or under investigation – 5 years clear and not taking medication
Pregnant or trying to get pregnant
Breast feeding
All liver/kidney conditions
Before After photos 360 Cryolipolysis Fat Freezing
Gallery of our treatments
Shape Zone: let us help you discover the best version of yourself
With over 25 years of experience in medical aesthetic treatments, our friendly and qualified practitioners will ensure you have a comfortable and effective Sculpt Pro Muscle Stimulation experience. We use the state-of-the-art Tesla machine for this treatment, and our specialists have undertaken extensive training to operate the device. With Shape Zone, you're in safe hands.
 If you've not had a HIEMT Muscle Stimulating  treatment before, we offer a free, no-obligation consultation. One of our experts will answer any questions you have about the procedure and put together a customised treatment plan that focuses on the muscle groups you want to target.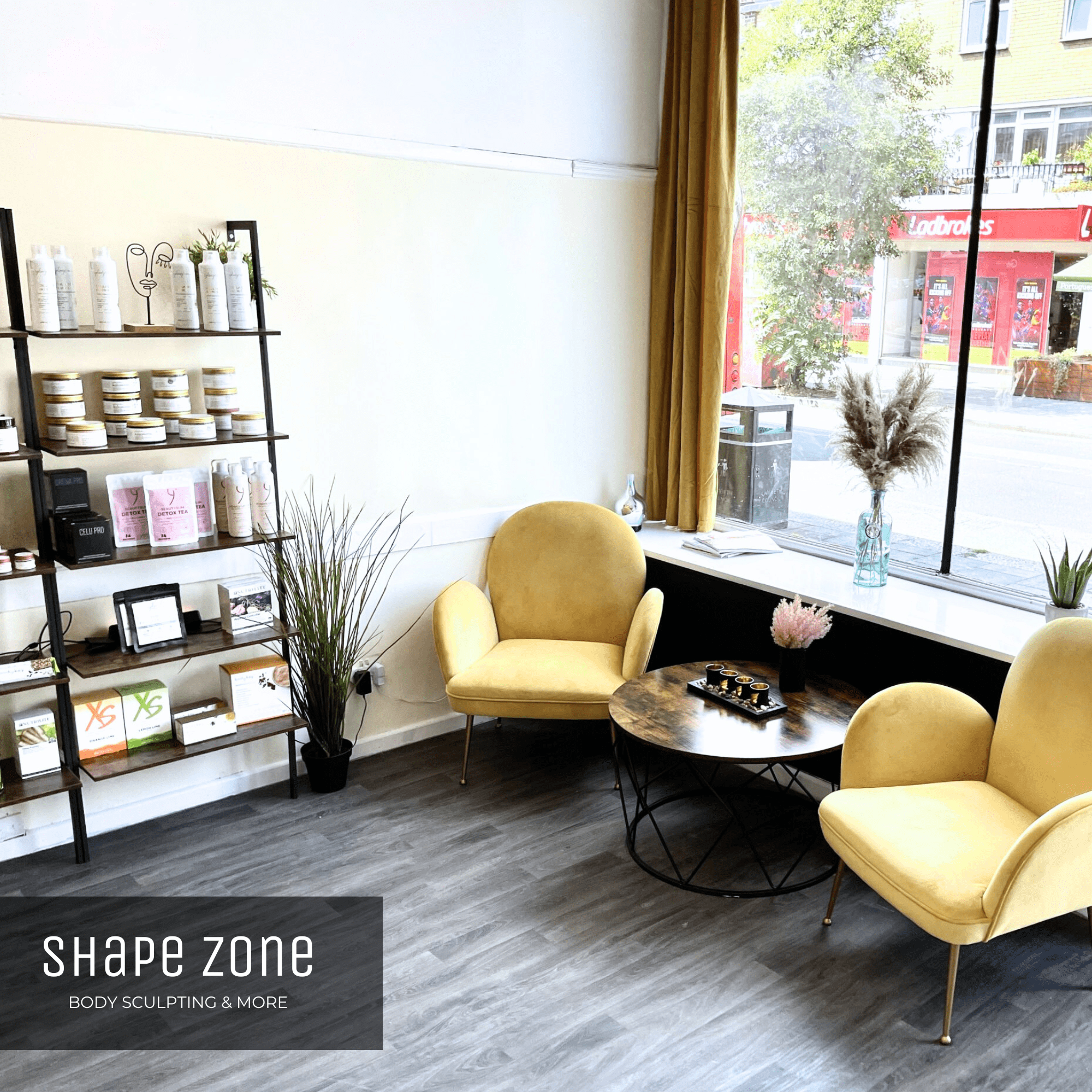 Table of Contents 360 Cryolipolysis Fat Freezing in London