Non-Surgical Laser Lipolysis
Non invasive
Powerful results
90% Satisfaction
Research Proven Results
No recovery time
Best results with a low calorie diet and exercise
Laser Lipolysis is one of the most popular cosmetic treatments for fat reduction and body contouring. Today's busy lifestyles, processed food and excessive use of transport makes it harder to know how to get rid of the muffin-top, love-handles, double chin, jelly belly, saggy bum and wobbly thighs. Men can suffer from excess estrogen hormones, causing 'man-boobs' – exercise alone will not efficiently remove fat from this area. 

This ground-breaking body shaping treatment offers a non-invasive solution for; skin tightening, body contouring and cellulite reduction.
There is no pain or downtime, and you can even have a session during your lunch break.

Whether you spend hours in the gym or follow the strictest diets, many people suffer from fat pockets that exercise and calorie control cannot shift. Similarly, our metabolism begins to slow as we age, and these problematic fat pockets can develop. Thanks to our inch loss application, this could be a thing of the past in just eight treatments.
Laser lipolysis can be a carried out on virtually all areas of the body, including the chin, neck, lateral chest, upper and lower abdomen, waist and hips, buttocks, thighs, knees, calves and lower back. In selected patients, laser lipolysis for 2-3 areas of the body may be possible in one treatment if you are deemed suitable.
Stomach
Hips
Thighs
Back fat
Buttocks
Bingo wings
Male Chest
Knees
Chest
Abdomen
Arms
Bra line fat
Laser Lipolysis Cold Laser Therapy LLLT
Shape Zone is pleased to offer Cold Low Level Laser Therapy (LLLT) as a non-invasive, pain free, safe alternative to traditional liposuction. This treatment will assist you to lose inches, tighten and firm skin and reduce the look of stretch marks and cellulite. The treatment will also aide with the detoxification of the body and flushing of the lymphatic system. Results are lasting, provided you maintain sensible dietary intake and exercise habits.
Clients usually require a series of treatments based on their individual situation and response and may have 2-3 treatments per week. "Trouble spots" that are difficult to target with diet and exercise are able to be reduced.
Laser Lipo, a revolutionary system that uses low laser technology, known as Diode Laser, for spot fat reduction, centimetre loss and body contouring. This treatment is suitable for men and women and all body types. It works synergistically with the body's weight loss mechanisms and specifically targets troublesome areas to remove centremetres in a safe, non-invasive and painless way.
How Does Laser Lipolysis Cold Laser Therapy LLLT work?
The clinically proven, non-invasive laser treatment penetrates the skin to selectively target the fat cells underneath, leaving blood vessels, nerves and other tissue undisturbed.
When the fat cells absorb the energy from the lasers they release water, glycerol and free fatty acids. The harmless fat cell content is then removed from the body through lymphatic drainage, giving results that get better over time.
When the laser paddles are placed on the skin, the safety Class 2 lasers penetrate the skin just deep enough to reach the layers of
fat (9-13mm). When the fat cells absorb the energy from the lasers, a rapid chain of events take place.

Firstly, pores form on the surface of the cells causing them to spill out their contents of water, Glycerol and free fatty acids. These contents move into the interstitial space beneath the fatty layer in the skin which enables the cells to become malleable; achieving adipocyte cell reduction.
This disruption does not affect the neighbouring structures such as the blood vessels and nerves. The lymphatic system removes the contents via the Liver and the Kidneys where it is processed in the same way as fatty foods – any content that remains in the body is naturally passed out in the urine.
Frequently asked questions about Laser Lipolysis
How Laser Lipolysis works?
Laser lipolysis (commonly known as Laser Lipo) uses low levels of laser energy to disrupt fat cell membranes, thus rendering the membranes porous. As a result, the contents of the fat cell (adipocyte) spill out into the area between the cells. Sugar (glycerol) and water are also released, these compounds are used elsewhere by the body. The fat cell is still present, however, it has lost its round shape and is now flat.
The newly released fat elements (triglycerides) are then transported through the body's lymphatic system and ultimately exit the body on urination. This is why Laser Lipo is proven to give long term results – the fat is eliminated from the body.
How long does Laser Lipolysis treatment take?
A Laser Lipolysis session usually takes 30 minutes, depending of the area being treated.
What happens to the fat?
Following treatment, the glycerol is rapidly absorbed by the body. The water carries the free fatty acids through the lymphatic system, liver and kidneys which will then exit the body through your urine.
How many sessions are required for successful results?
Recommended 6-18 per area.
Does Laser Lipolysis treatment hurt?
No, there is zero pain and zero discomfort. You feel a comfortable warm feeling in the treatment area which is known to make some clients fall asleep.
Are there any Contraindications with Laser Lipolysis?
All forms of previous/current cancer
Heart conditions
Pacemaker
Liver or kidney failure
Pregnant or lactating mothers
Clients on photosensitive medications
Epilepsy
Diabetes Type 1
Patients with keloid scarring
10. Metal pins or plates
Cirrhosis
Auto-immune disease
Deep vein thrombosis (DVT)
Where does the fat go?
Laser Lipo treatments result in the liquefaction of fats, the liquefied fat is then drained through lymph drainage. The effectiveness of fat drainage during and after treatment is dependent on proper functioning of the lymphatic system, which is responsible for removing wastes from the body.
What results are typical with Laser Lipolysis?
Male and female clients have found that those hard to reduce trouble spots, such as love handles, tummy bulge, and saddlebags can be treated quite significantly within just a few treatments.
How is Laser Lipo, Laser Lipolysis different from other contour treatments?
The Laser is completely non-invasive, and the cold red laser cannot be felt or heard, making the treatment extremely relaxing, quick, and effective.
Is Laser Lipolysis safe?
The Lipo Laser is very safe. In fact, the initial purpose of low level laser technology was for pain relief and cell regeneration for healing. A clinical trial demonstrated that modifying the frequencies and output was effective for fat reduction and after continued studies it was discovered that low level laser therapy was a safe and effective indication for body contouring and spot fat reduction.
Can the Laser Lipolysis improve my abs?
More of our clients come in to treat their abs than any other part of their body. It's not so much weight loss, but inches lost. While the waist and hip size goes down, so does their trouser size.
What areas can be treated with Laser Lipolysis?
Treatments are effective for use on the back of the arms, the upper and lower abdomen, chin/neck and jowls, knees, upper and lower back, inner and outer thighs, buttocks, love handles, and the male chest.
Pre Treatment Protocol for Laser Lipolysis:
Prior to having Laser Lipo you should follow a low fat/low carb diet and drink at least 2 liters of water 24 hours before your treatment. For 3 days following your treatment, you should continue to drink 2-3 liters of water a day.
A low carb diet is highly recommended 24-48 hours before treatment.
Please wear cotton clothing such as shorts and a t-shirt. No metal. We must be able to see the area we are working on.
Post Treatment Protocol for Laser Lipolysis:
To best maximize the effectiveness of your treatment, it is best to have only one cup of coffee a day for the next 72 hours, low sugar, no alcohol, and at least 30 minutes of cardio activity.
We recommend doing either a cardio activity or a metabolism booster treatments (HIEMT, Pressotherapy, Radio Frequency, Cellu Roll) after your treatment.
Avoid any high fat meal for 24 hours after treatment for best results.
Before After photos Laser Lipolysis
Gallery of Laser Lipolysis
Shape Zone: let us help you discover the best version of yourself
With over 25 years of experience in medical aesthetic treatments, our friendly and qualified practitioners will ensure you have a comfortable and effective Sculpt Pro Muscle Stimulation experience. We use the state-of-the-art Tesla machine for this treatment, and our specialists have undertaken extensive training to operate the device. With Shape Zone, you're in safe hands.
 If you've not had a HIEMT Muscle Stimulating  treatment before, we offer a free, no-obligation consultation. One of our experts will answer any questions you have about the procedure and put together a customised treatment plan that focuses on the muscle groups you want to target.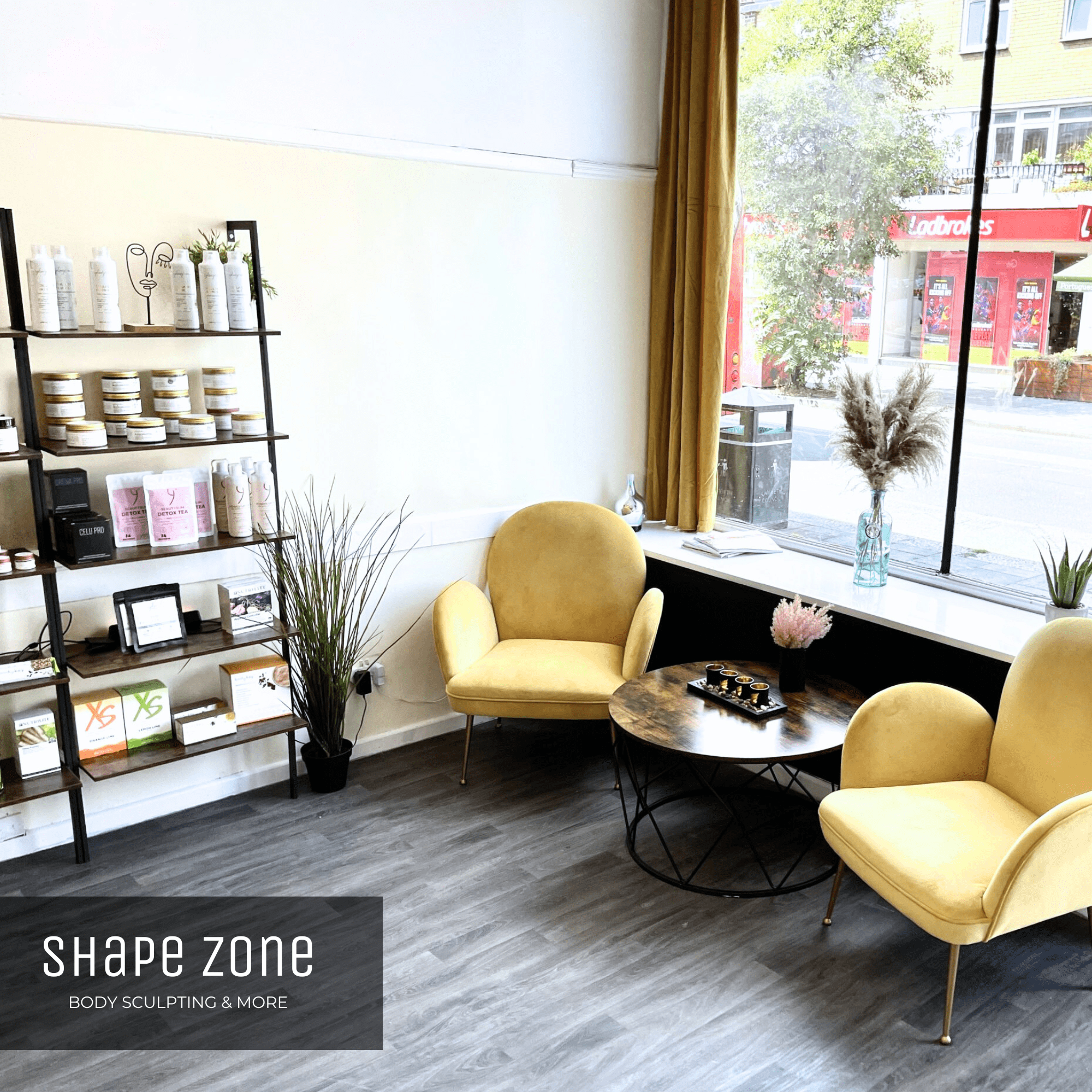 Table of Contents 360 Cryolipolysis Fat Freezing in London