5-star rated multi-award winning body contouring studio.
Shape Zone London- start your body contouring journey here
Start Your Body Contouring treatments with us Today!
Building Muscle with the High Intensity Electromagnetic Technology (HIEMT) The HIEMT is a revolutionary device which helps men and women build muscle while simultaneously burning fat, using all new electromagnetic technology.
The treatment can reduce cellulite and volume in the abdomen, upper arms, buttocks, and legs — areas that are often affected by water retention and also targets fat when Far-Infrared is activated!
The new 360° Fat Freezing Cryolipolysis is guaranteed to destroy more fat cells in a single application. It can reduce fat cells by 42% in a single treatment.
Cold Low Level Laser Therapy (LLLT) as a non-invasive, pain free, safe alternative to traditional liposuction. This treatment will assist you to lose inches, tighten and firm skin and reduce the look of stretch marks and cellulite.
Our Ultrasound Cavitation treatment is a completely non-invasive treatment for the reduction of body fat. A course of Ultrasound Cavitation could help clients to reduce inches and reshape their bodies. The treatment is pain free, non-surgical and there is no recovery time.
Body Radio Frequency technology is a fantastic treatment for both skin tightening and cellulite reduction.
We offer the most effective and affordable Body Contouring Packages personalised and professionally tailored to help you achieve the results you want quickly and easily.

Our commitment to providing the highest quality of body treatments is reflected in our use of the largest and most modern machinery in the area. We take pride in ensuring that our clients get visible and noticeable results. Our Body Contouring studio is based on a unique concept, with everything you need for a real, lasting, and life-changing weight loss journey. At ShapeZone, we offer the best slimming treatments in London, including HIEMT, Cryolipolysis, Ultrasound Cavitation, Radio Frequency Body, Pressotherapy, and Lipo Laser, designed to remove fat and help with cellulite. Our HIEMT treatment is one of our most popular treatments and is designed to burn fat and build muscle at the same time. Using the latest energy-based technology, this treatment can create a 'bigger booty' with a non-invasive Brazilian butt lift, or sculpt toned arms, calves, or six-pack abs with immediate results. Our slimming treatments offer numerous benefits, including total mind and body detox, improved blood circulation, metabolism, and skin cell renewal, increased lymphatic system flow, sculpted waist and tummy, lifted and shaped buttocks, weight-loss promotion, toned body, toxin drainage, muscle stimulation, reduced cellulite, pain and muscle tension relief, better night sleep, reduced stress and anxiety, boosted immunity, and immediate relaxation. Let ShapeZone be your partner in achieving your body goals. Visit us today to learn more about our body contouring packages and experience the best slimming treatments in London.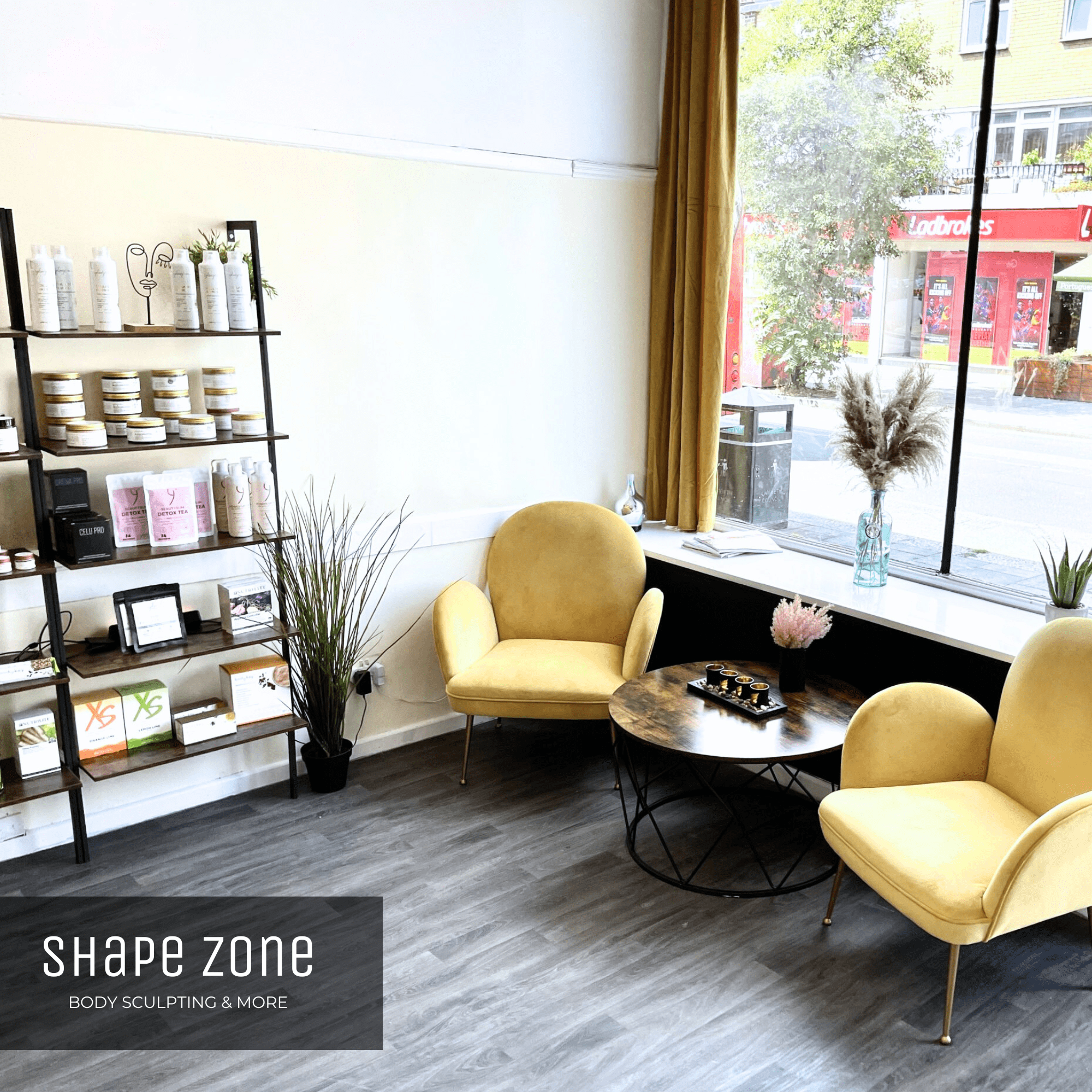 Multi-Award Winning Body Contouring Studio
Trusted by over 2,000 customers Since 2010.