HIEMT Body Contouring FAQ
Frequently Asked Questions about HIEMT Body contouring at Shape Zone London.
Shape Zone uses HIEMT technology. HIEMT is a safe procedure. The treatment does not hurt and there is no downtime. You may feel that you've had a very intense workout after the treatment.
Click on the price list to book online. 
How to Prepare for Your HIEMT Body Contouring Treatments
Wondering whether you are an "ideal" candidate for HIEMT?
We recommend it for anyone who is health-conscious and who exercises but is looking for that extra definition that their gym classes just aren't delivering. If you're deciding between HIEMT and something like Cryolipolysis or LaserLipo, we suggest that the right choice depends on your goal.
If you're more concerned with getting rid of fat, then Cryolipolysis or LaserLipo might be the way to go, and then you could follow up with HIEMT for toning and muscle definition. But we must caution that, while HIEMT body sculpting can help reduce fat, its main function involves building muscle. Therefore, the less fat you have in the treatment location, the more visible results you will yield.
What to Expect During an HIEMT Body Contouring Procedure?
The actual HIEMT body sculpting treatment is painless. The device straps on over your stomach area (or leg, arms, or butt area), and then our technician turns up the power. We say that they'll usually start at a lower power level and then work their way up, because going directly to 80 percent or 100 percent can hyper-stress the muscle. 
The contractions occur a few seconds apart and feel a little strange—like super-intense vibrations that reach your very core. This experience may feel slightly uncomfortable during your first treatment but will get better and easier with each additional session. After a few contractions, the machine will switch over to a tapping motion to help break up the lactic acid that's being released by your muscles.
Frequently asked questions about HIEMT Body Contouring
what is body contouring?
Body contouring falls into two categories, invasive and non-invasive body contouring techniques. Invasive procedures include liposuction which is a surgical procedure that uses a suction technique to remove fat from specific areas of the body, such as the abdomen.
Non-invasive body contouring treatments include laser, cryolipolysis, radiofrequency, ultrasound, and high-intensity electromagnetic technology (HIEMT). These five procedures have been demonstrated to be effective and have grown in popularity.
what is HIEMT technology?
At our body contouring studio - Shape Zone London; we offer the HIEMT technology.  HIEMT stands for high-intensity electromagnetic therapy. It is one of the newest non-invasive body contouring techniques available.
HIEMT uses a powerful but harmless form of electromagnetic stimulation to contract the muscles in a targeted area. These magnetic fields create electrical currents, which are passed to the muscles. When the muscles contract enough times, they begin to build muscles and burn fat.
Clinical evidence shows that HIEMT therapy can induce an average reduction in the abdominal circumference of 4.37cm. Other current technologies attribute reductions in abdominal circumference to fat reduction alone, while with the HIEMT procedure, reductions in abdominal circumference appear to be attributed to a combination of fat reduction and reparation of the rectus musculature.
how many sessions will i need?
At Shape Zone london body contouring studio, we recommend 4 to 8 sessions, spaced about 3 days apart.
how long is the treatment?
Out body contouring studio Shape Zone London offers treatments that last approximately 30 minutes. When we begin the treatment, the machine works at a low power to avoid stressing the muscles, then it is turned up depending on your tolerance level. At the end of your treatment, the machine is dialed down to finish with some slow, deliberate contractions. This helps flush out toxins and lactic acid, so there is no build-up and no chance of your muscles feeling completely over-exercised, even though they are.
do i need to undress?
Shape Zone London Body contouring studio does not require you to undress. The treatment can be done with clothes. We do recommend coming in with comfortable clothing, like what you would wear when working out.
is HIEMT body contouring right for me?
Shape Zone London Body contouring studio recommends that our treatments work best for those who have a normal body mass index (between 18.5 and 24.9). They do permanently destroy fat cells.
You should be healthy and do not have the following contraindications: pregnant or lactating, have a history of heart disease, thyroid, hypertension, renal failure, malignant tumor, epilepsy, or muscle strain. You do not have a brain injury or brain surgery, cerebrovascular disease, or thrombophlebitis.
are there any body contouring side effects?
You may feel that you've had a very intense workout after the treatment.
when will i see results?
After your first treatment, you should notice you are looking more refined. But the best results will occur two to four weeks after your last session. According to clinical studies, you should expect to lose about 19% body fat and 16% increase in muscle mass.
how long will the results last?
Although HIEMT body contouring is not permanent, the results do last a long time. If you maintain a healthy diet and regular exercise routine, the results will last even longer. On average, Shape Zone London Body Contouring studio recommends a maintenance treatment in six months.
will i lose weight with body contouring or just lose fat?
Body contouring is not a shortcut to weight loss. There is a difference between weight loss and fat reduction. Body contouring will reduce the percentage of fat in the treated area.
There are a fixed number of fat cells in your body. When you gain or lose weight, you are not actually producing additional fat cells. The fat cells that you already have are either getting larger or smaller. When you gain weight these fat cells get larger, and when you lose weight, they get smaller.
When you do the HIEMT body contouring treatments, some of these fat cells are removed or destroyed. Once they are gone, they can never regenerate or be replaced. By removing or destroying these fat cells in the treated parts of your body, such as the stubborn fat in your abdomen, the treatment can contour and tone your body in ways that exercise or diet cannot.
Therefore, although you will look thinner, this is not because you lost weight. It is because you lost fat cells. Remember though, your fat cells can still expand and get bigger if you do not live a healthy lifestyle. Shape Zone London Body contouring clinic recommends you still should maintain a healthy diet and do some regular exercise.
does HIEMT body contouring really work?
There are numerous clinical studies that show High-Intensity Electromagnetic Technology works to reduce fat and tone muscle.
how can i book an appointment?
You can request a call back HERE.
You can call Shape Zone London on tel:+447546254357
You can email Shape Zone London at info@shapezone.uk
Before After photos HIEMT Body Contouring
Gallery of HIEMT Body Contouring treatment
Shape Zone: let us help you discover the best version of yourself
With over 25 years of experience in medical aesthetic treatments, our friendly and qualified practitioners will ensure you have a comfortable and effective Sculpt Pro Muscle Stimulation experience. We use the state-of-the-art Tesla machine for this treatment, and our specialists have undertaken extensive training to operate the device. With Shape Zone, you're in safe hands.
 If you've not had a HIEMT Muscle Stimulating  treatment before, we offer a free, no-obligation consultation. One of our experts will answer any questions you have about the procedure and put together a customised treatment plan that focuses on the muscle groups you want to target.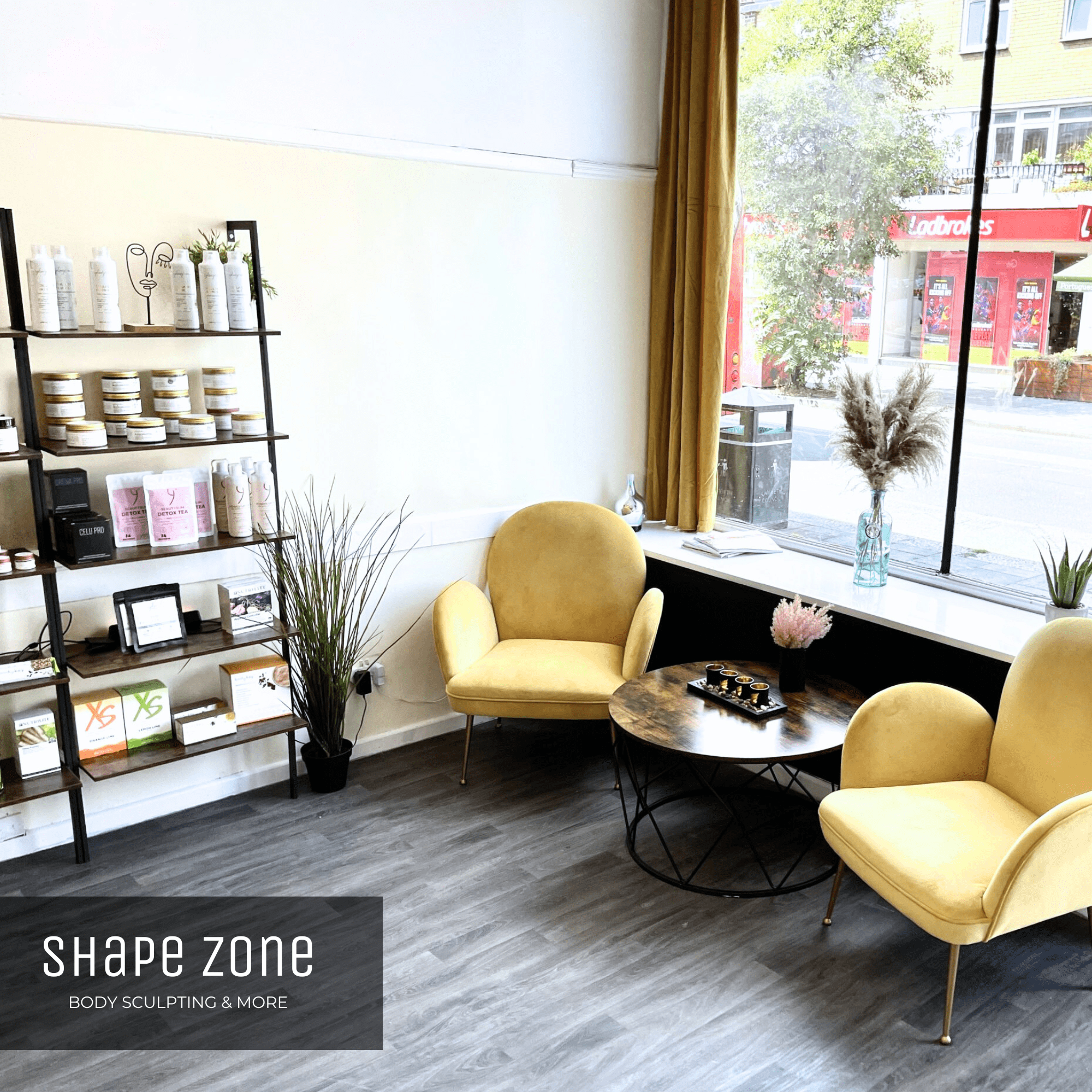 Table of Contents HIEMT Body Contouring treatment